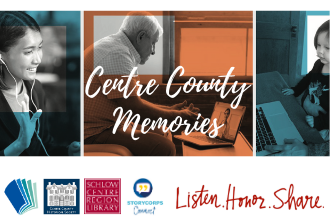 Schlow Library is proud to partner with StoryCorps, Centre County Library & Historical Museum, and the Centre County Historical Society to help you share a connection with your friends and family through StoryCorps Connect.
This free and simple platform runs in any browser, and enables anyone to remotely record an interview with a loved one. The audio and a still photo from each interview are then uploaded to the The American Folklife Center at the Library of Congress. Your interview becomes part of American history, and hundreds of years from now, future generations will listen in. Follow these three simple steps below to add your voice to Schlow's growing archive of oral history.
 Step 1) Your Account with StoryCorps
Make an account with StoryCorps, or login if you already have one. If you have an account through the audio-only StoryCorps app, that login will work.
Step 2) Recording through StoryCorps Connect
Once you have an account with StoryCorps, you can use this simple guide to walk you through the process of recording and uploading.  There is a more detailed tutorial here, complete with a step-by-step video. If it helps, here are lists of great questions to get you started.
Step 3) Add your voice to Central Pennsylvania's collection of memories. (Optional)
Join the Centre County Memories StoryCorps Community. If you are logged into your account in the StoryCorps Archive, you should see a Join button to click. Once you are a member of our community, submit your interview to be part of our collection.
You can also make your own community, which is a great way for a family, group of friends, class, or town to collect and organize their collective history.
If you run into any trouble, there is a FAQ here.
Our good friends at the Centre County Library and Historical Museum made a great walkthrough here.
You are all done!  Pretty simple, right?  Below are some alternative ways to record and get connected in case they work better for you.
Recording on your own (Alternative)
You can upload interviews you have recorded on your own to the StoryCorps Archive. A description of the file types accepted and walkthrough of the uploading process can be found here. This might be interviews you have recorded on a digital recorder, the audio .M4A file from a Zoom call (you can convert that file type here), or an interview you have edited and mixed on your own.
Using the StoryCorps App (Alternative)
Above we went over how to use StoryCorps Connect, which allows people far apart to record an interview. Distinct from StoryCorps Connect, there is the StoryCorps App. This turns your smart-phone into a quick and easy recording studio, allowing you to conduct and upload an audio-only interview with someone standing next to you. These interviews are archived in the same collection at the Library of Congress as the other StoryCorps interviews. A walkthrough of the StoryCorps app is here.
StoryCorps Connect in the Centre Region brought to you by:
Centre County Library & Historical Museum, Centre County Historical Society, and Schlow Centre Region Library