Welcome to Schlow Centre Region Library!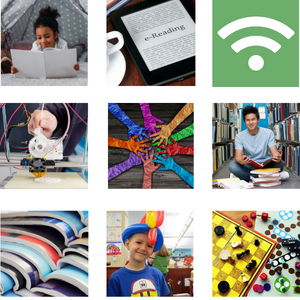 Welcome to an endless world of opportunities and resources. Browse, borrow, and learn online and in print—for free!
Check it Out!
The partnership between you and Schlow Centre Region Library means that all of Schlow's resources, both in the library and online, are now available to you.
Schlow Library is home to more than 150,000 items, including books and magazines, eBooks, DVDs, video games, music, and audiobooks. As many as 199 library items can be checked out on your account at one time! Most materials can be checked out for three weeks and can be renewed twice unless another person has requested it.
Benefits
Log in with your library card number and library PIN to enjoy all the benefits of your new card.
By logging in, you also gain access to research databases and popular features such as eBooks/eAudiobooks (Overdrive & TumbleBooks), movies & music (Hoopla), magazines (Flipster), online language classes (Muzzy & Transparent Language), live homework help (HelpNow by BrainFuse), and more!
Our Agreement with You
By signing your name to your library card, you accept responsibility for the items checked out on your account. If an item is lost or damaged, a replacement fee will be charged to your account.
If your address, phone number, or email address ever change, please update your account profile online, call, or come to the library and let us know.
Every two years your account will expire to make sure your information is up-to-date; when this happens, just call us or renew online, and we'll quickly get your account back in working order.
You can read our full list of rules and policies anytime.
Questions? If, for any reason, you have difficulty accessing library resources, please contact the Schlow staff at 814.237.6236 or email us at acctinfo@schlowlibrary.org, so we can help find the solution to the problem.